Welcome to
The German Timber Trade Federation – GD Holz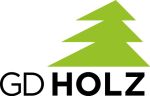 The Federation
The German Timber Trade Federation (GD Holz) is the timber trade's neutral trade association and represents the interests of the specialist timber trade and its distribution channels.
GD Holz includes in its membership 900 companies in Germany as well as the cooperations and our trade group Luxembourg. GD Holz is based in Berlin in close vicinity to the government district.
GD Holz member companies are active in the wholesale, foreign trade, retail, veneer and roundwood trading sectors. These departments are subdivided to form committees and working groups specifically for product lines and specialist areas. The federation also represents brokers and agents, planing mills and the working group timber experts.
The association's remit is also to improve and extend the marketability of member companies vis à vis their distribution channels in particular by providing well-found technical information on wood, training courses and development programmes.
As a professional federation GD Holz equips its member companies with profound and exclusive knowledge – wood competence is one of the federation's hallmarks!
GD Holz is organizer of the Branchentag Holz – the German timber trade's largest communication platform which takes place biennially in Cologne. During the Branchentag Holz we award the popular Woody Award for outstanding and innovative achievements in timber trade.
GD Holz – active on a national and international level
GD Holz maintains an efficient and successful network both on a national and international level. GD Holz itself holds among others memberships of the DHWR (Deutscher Holzwirtschaftsrat), of the Deutscher Forstzertifizierungsrat PEFC as well as of numerous state advisory councils for timber usage. Furthermore GD Holz is a founding member of the FSC working group Germany.
On an international level GD Holz is a member of ETTF and is currently holding the position of its president.
GD Holz – a strong and competent partner

For many years the German Timber Trade Federation has pled for the proof of legality as well as for sustainability in timber trade. Therefore the statutes of the GD Holz e.V. include a Code of Conduct. This Code of Conduct commits all member companies of the federation to deal only with legal timber and timber products. Therefore our subsidiary GD Holz Service GmbH has achieved certification according to the criteria of the worldwide acting labels FSC and PEFC.

Moreover, GD Holz Service GmbH has applied as Monitoring Organization at the European Commission in Brussels to support our companies in terms of the regulations of the forthcoming European Timber Regulation which will come into force in March 2013.

Our member companies are taking their responsibility seriously to safeguard our forests for us and also for future generations. They act in a responsible and careful manner with timber – and therefore rightly enjoy a high level of trust amongst their target groups. GD Holz is their strong and competent partner.